Description
The DefenderShield® Universal Tablet / iPad EMF Radiation Protection Case uses multiple layers of advanced shielding to help block up to 99% of Electromagnetic Field (EMF) radiation from the surface of your tablet. The DefenderShield Tablet / iPad EMF Radiation Case is the only tablet computer radiation shield capable of protecting from all forms of tablet EMF and 5th Generation radiation, including RF and ELF radiation.
The DefenderShield Tablet / iPad EMF Radiation Case uses DefenderShield's newly developed Ultra Armor+® Shielding Technology in the front and rotating back cover to help protect your body from up to 90 GHz of EMF frequencies emitting from your tablet. Just make sure the front or rotating back cover of the tablet case is between your lap and your tablet or iPad.
Perfect for: Home use, travel, e-learning, work, entertainment, on-the-go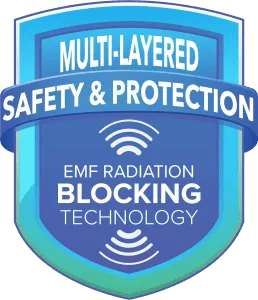 Perfect For: Daily use
All Features:
All Features:
Ultra Armor+® Shielding Technology in the front and rotating back cover blocks up to 99% of EMF and 5th Generation radiation emitting from the bottom of your tablet (0-90 GHz)
360º swivel mount and kickstand for landscape or portrait viewing
Durable vegan exterior and textured rubber interior offers enhanced impact protection
Secure magnetic tab closure
Universal protective corner grips stretch to hold tablet in place and protect against drops
The DefenderShield EMF Tablet Case Shields

Fifth Generation Wireless (RF Radiation)

WiFi Radiation (RF Radiation)

Bluetooth Radiation (RF Radiation)

Extremely Low Frequency Radiation (ELF Radiation)
How to Use:
The DefenderShield EMF Blocking Universal Wallet Case is the only cell phone radiation shield capable of shielding all forms of cell phone EMF radiation (RF and ELF), including 5th Generation up to 90 GHz.
When using your cell phone, just keep the shielded front cover between your body and radiation-emitting cell phone. By keeping the shielded front cover closed against any part of your body, a barrier is created to help protect from a broad spectrum of potentially harmful cell phone radiation emissions. We recommend adhering the magnet(s) to a slim yet protective nesting to protect your phone before placing your phone inside the wallet case.
The DefenderShield Universal Phone Wallet Case offers three convenient RFID-blocking slots to hold credit cards, IDs and other items. We recommend pairing it with our DefenderShield Magnetic Car Phone Mount to safely enhance your driving experience. The design folds to function as a stand for landscape viewing and a secure magnetic closure ensures safe-keeping of your valuables and protection for your phone.
About DefenderShield's Ultra Armor®
Our custom-created Ultra Armor+® shielding technology can block up to 99% of RF (radio frequency) and ELF (extremely low frequency) radiation from 0 to 90 GHz, including all bands of the 5th Generation spectrum: low-band operating below 1 GHz, mid-band or c-band up to 6 GHz, and high-band millimeter waves at 24 GHz and higher. It also blocks WiFi, Bluetooth, Cellular (1G-5Gen), RFID, NFC, GPS, and other microwaves and radio waves from reaching your body. It should not affect cellular service or connectivity.