Description
Delivering sound via hollow air tubes rather than traditional wires, the DefenderShield® EMF Radiation-Free Earbuds Air Tube Headphones offer an incredible listening experience while protecting from Electromagnetic Field (EMF) radiation exposure.
Our DefenderShield® EMF Radiation-Free Earbuds are the best quality air tube earbuds in the world. Our EMF Free Earbuds eliminate RF wireless frequencies due to being wired to your device. Hollow air tubes then switch the electrical signal to an acoustic signal, preventing any ELF (extremely low frequency) radiation from reaching your head and ears. To look at other EMF Free Headphones, try out our EMF-Free Over-Ear Headphones and our EMF-Free Kids Headphones!
Perfect For:
Travel
Workouts
Listening to music and podcasts
Taking short or extended calls
All Features of  DefenderShield EMF Free Air Tube Earbuds
SAFETY
EMF radiation-free technology delivers crystal clear sound via hollow air tubes rather than traditional wires.
Braided nylon cord is infused with copper for additional protection from Extremely Low Frequency (ELF) radiation.
SOUND
Developed by audio engineering specialists.
Advanced, professional-grade speakers deliver higher fidelity stereo sound.
Air-filled hollow tubes increase space for tone development, producing body and delivering a superior acoustic audio.
CONVENIENCE
Built-in hands-free microphone with audio controls.
Highly flexible yet strong air tubes and tangle-free braided nylon cord.
Interchangeable sport tips and clip to keep earbuds securely in place while playing sports, exercising or running.
Small, medium and large silicone ear tips for a custom fit.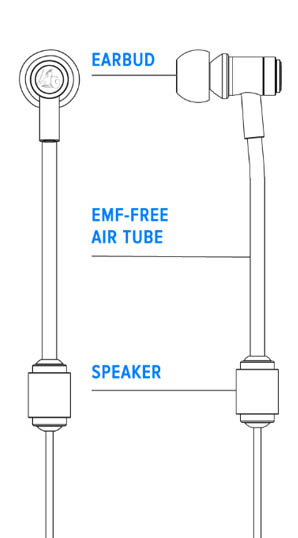 How to Use
Just place the DefenderPad Laptop Radiation Shield between your laptop or other device and your body to help shield yourself from a broad spectrum of potentially harmful radiation and heat emissions.
Protective technology, combined with strong and durable design make the DefenderPad Laptop Shield the ideal replacement for other lap devices like lap desks, lap trays, laptop tables and laptop cooling pads. The DefenderPad is also compatible with tablets and 2-IN-1 laptops like the iPad Pro™ and Surface™ Pro.
Product Specifications
Weight (lbs): 0.056
Cord (in): 42.5 (from 3.5mm plug to speaker)
Air Tube Length (in): 7 (from speaker to headset)
Earbud Size: Small, Medium, Large
Compatible with most 3.5 mm audio devices
Patent License #: 6453044