Description
Whether at home or on-the-go, the DefenderShield® EMF Protection & Anti-Radiation Blanket can help you stay comfy while protecting from wireless Electromagnetic Field (EMF) radiation and acting as a floating ground.
The DefenderShield® EMF Radiation Protection Blanket is the only radiation blocking blanket with multiple layers of advanced shielding to block up to 99% of ambient wireless EMF and 5th Generation radiation up to 10 GHz.
Perfect For:
Travel
Sleeping
Pregnancy protection
Baby/child protection
Working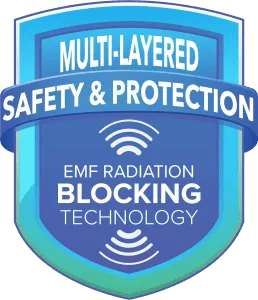 All Features:
Advanced shielding blocks up to 99% of wireless EMF and 5th Generation radiation (300 Hz-10 GHz)
Acts as a floating ground for EMF energy
70% Bamboo and 30% Cotton cloth exterior
Hypoallergenic and non-toxic
Standard Size: Includes hooded corner for baby and toddlers; perfect for pregnant women, children, travel, and for universal use with wireless devices
Perfect for sleeping and for complete body EMF protection
Caution:
Do NOT Machine Wash or Dry
EMF Protection Anti-Radiation Blanket Blocks

Fifth Generation Wireless (RF Radiation)

WiFi Radiation (RF Radiation)

Bluetooth Radiation (RF Radiation)

Extremely Low Frequency Radiation (ELF Radiation)
How to Use:
Using advanced, multi-layered shielding, the DefenderShield EMF Protection Blanket reduces exposure to wireless Radio Frequency (RF) radiation emitted by electronic devices, WiFi routers, and wireless networks in the direction of the blanket, without affecting cellular service or connectivity. It also behaves as a floating ground, in which electromagnetic energy flows through a conductive path with resistance.
When using mobile devices, just cover yourself with the DefenderShield EMF Protection Blanket to shield your body and ground ambient EMF emissions as you work, watch, listen, or play. It is also ideal for use by women during pregnancy to reduce the risks of ambient wireless radiation for their unborn baby. Use after your baby is born and provide head to toe coverage with our newly designed hooded corner.
As an extra precaution for pregnant women, we recommend using a DefenderShield EMF Radiation Protection Cell Phone, Tablet or Laptop Shield if you are using a device directly on your lap to block up to 99% of RF and ELF (Extremely Low Frequency) emissions.
Specifications for Full Blanket (75″ x 53″)
Weight: 4.5 lbs
Dimensions: 75 x 53 x .3 in